The application for the 2019 HiiL Justice Accelerator is currently open. The HiiL Justice Accelerator scouts and supports the world's best justice innovators.The program provides grant funding, business acceleration services, access to free technical tools, connections to local and global mentors, and promotional opportunities.
Eligibility
They look for ventures with strong potential to prevent or resolve pressing justice needs. Examples of such eventures are those that deliver concrete justice solutions for many people, including micro, small and medium-sized businesses, and initiatives within existing justice systems or public institutions, spearheaded by driven intrapreneurs.
Innovative justice initiatives who can make significant social impact
Ventures that have a business model and the ambition to scale across a country or internationally
Ventures that have a business model that enables them to become financially sustainable
Ventures led by a motivated and strong team that includes experienced and inspiring founder(s)
Benefits and funding information
Grant funding up to 20,000 EUR.
Business Acceleration Support. This means regular 1-on-1 counselling and developing solutions
Local incubation (where possible). If you reside close to one of our 7 hubs, we can provide a local advisor, otherwise called an "Innovating Justice Agent".
Mentorship. We can connect you with local (where available) and global mentors.
Connections. HiiL has a network around the world: with justice institutions, impact investors, legal tech organisations, academics.
Promotion and branding. You can proudly display the HiiL logo on your site showing that you are part of the HiiL Justice Accelerator programme.
Application process
APPLY NOW TO THE INNOVATING JUSTICE CHALLENGE! 
Application and acceleration process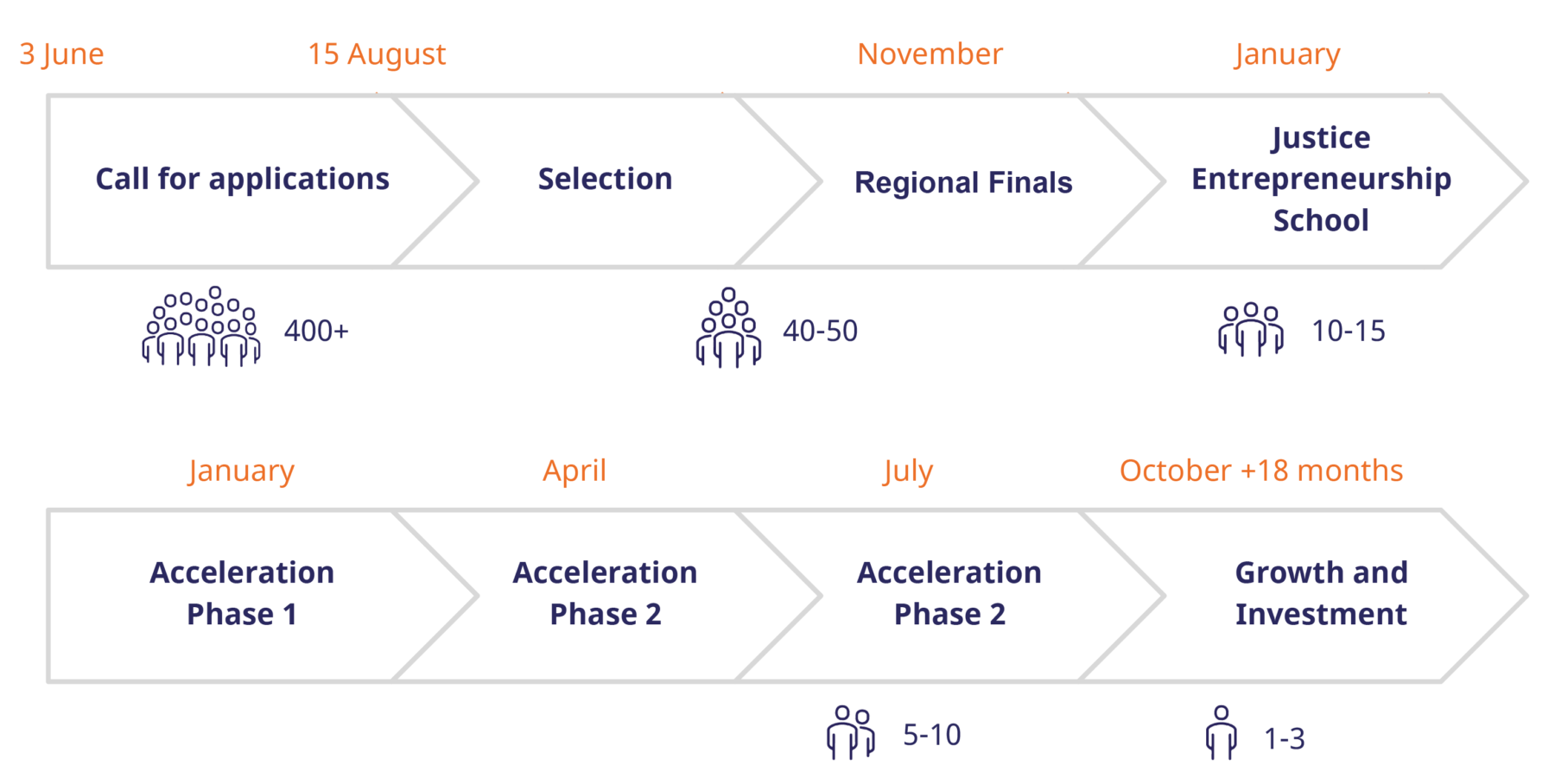 For more information,please visit https://www.hiil.org/what-we-do/the-justice-accelerator/innovators/